Random Photos From 2002
We had an ice storm that caused us to lose power for several days. It also bent this tree over quite a bit (it was past horizontal for a while)

---
I cut and installed some new shelves into our pantry.

Also a spice rack, all of the spices are now in alphabetical order. Woo-hoo! (Allspice is first, Worcestershire Sauce is last) Close up of some detail work, I rounded the tips, and beveled the edges on the triangular supports to make them look nicer.
---
Sylvia is becoming more famous. Here is a picture of her painting the guitar that will be part of the Guitar Mania.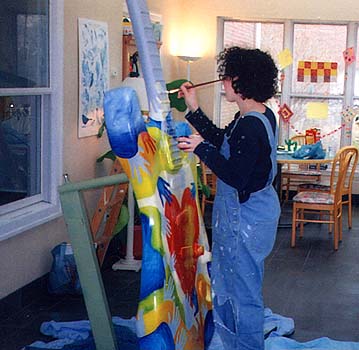 ---
More woodworking, this time some chairs I made.

Thes pieces of wood cut to length and ready for shaping. (The pile in the top left is all of the straight pieces, the fan of pieces in the top right is slats that back of the backrest, the remaining pieces have their pattern drawn on them.) All of the pieces have been cut out, sanded smooth, and routed. ALl that is left is a final 220 sand and assembly.
---
Went and visited Sleeping Bear Dunes. Megan took lots of pictures of athe area surrounding out campsite, it was a nice site which was a short (100 feet) walk to the lakeshore.
I enjoyed the trip cause I got to do the 1 thing I really enjoy about camping, burning stuff.
We also went geocaching, and one of the roads we were on, on the way to the cache ended somwhat suddenly.
---
New Patio being installed
Day 1
Most of the excavation is done.
Stones are delivered and wating to go in. (Some are 4 feet tall)
Some stones have been laid.
End of Day 1
Day 2
Noon Day 2
Around 3 p.m.
End of Day 2
Showing a different angle
I just liked how big this stone is.
Day 3
Around noon, mostly done.
Reverse angle
Finished
Grass should start filling in soon.
We have some plans about what to plant in the panting bed along the back.
---
New Dishwasher!
Out with the old

In with the new! It's huge!!
---
Guy Albertelli Last modified: Mon Aug 12 16:15:36 EDT 2002